I wasn't gonna do it, but then I kept seeing all of those Easter egg projects on Pinterest, so I rounded up the bunch of weirdos I call my family and we had a good, old-fashioned Easter egg-makin' whoop-de-do.
Only I decided we were to make alternative Easter eggs, because there are probably a zillion different cool ways to decorate eggs, and I just wanted to try my hand at a few I've seen floating around the Pinterest lately.
Chalkboard paint
Here's the trite one in the group. Chalkboard paint. Stop rolling your eyes up into your silly little head and just admit that chalkboard paint is still where it's at.
Buy chalkboard paint here.
Paper collage on Eggs
I've had the newspaper egg floating around the house for years and makes me the happiest person on the planet. (It's a wooden craft store egg.) Just rip up words from scrapbook paper, book pages or newspapers (do they make newspapers anymore?), glue them on and slap a coat of Mod Podge on top if you're so inclined.
Buy: Mod Podge, cute scrapbook papers, wooden eggs. (I bought my wooden eggs at Hobby Lobby.)
Sharpie Eggs
Sharpies of course. Because nothing says Easter like smelly permanent markers….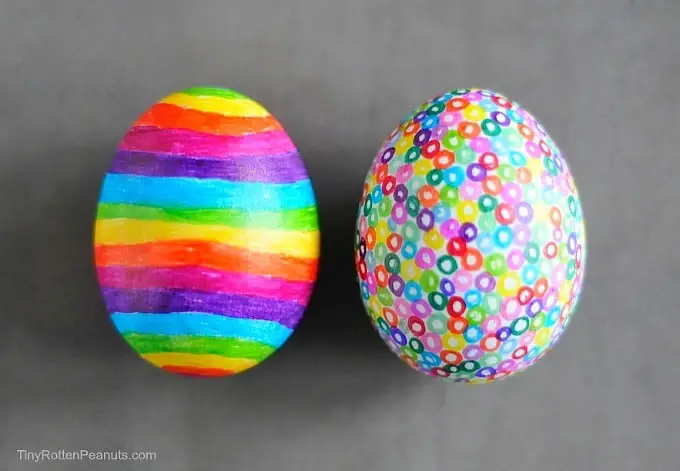 These were actually our favorites to do, and even Christian made a special Sharpie egg. Guess which one is Fen's and which is Christian's.
Sharpie set I just bought and used for these and hide away from everyone.
Bleeding tissue paper
Little squares of bleeding art tissue placed all over a wet egg makes for a super snappy-looking egg with a riot of colors all over. For some reason, the blue/green combo came out much better than the other. I think I will buy this bleeding tissue next time, because it gets awesome reviews.
String around the old middle eggs
Wrap 'em if you got 'em. folks. Glue. Embroidery thread. Coolness.
Of course, we're still dying eggs this week for Easter, so we'll pretty much have a 3 hour long egg hunt Sunday morning, but it was fun to get all crafty and experimental with these. If you want to keep your eggs after you put this much work into them, I suggest buying the wooden eggs or blowing the innards out of your eggs.
Can't even get enough Easter egg crafts? Try these really fun string Easter eggs.