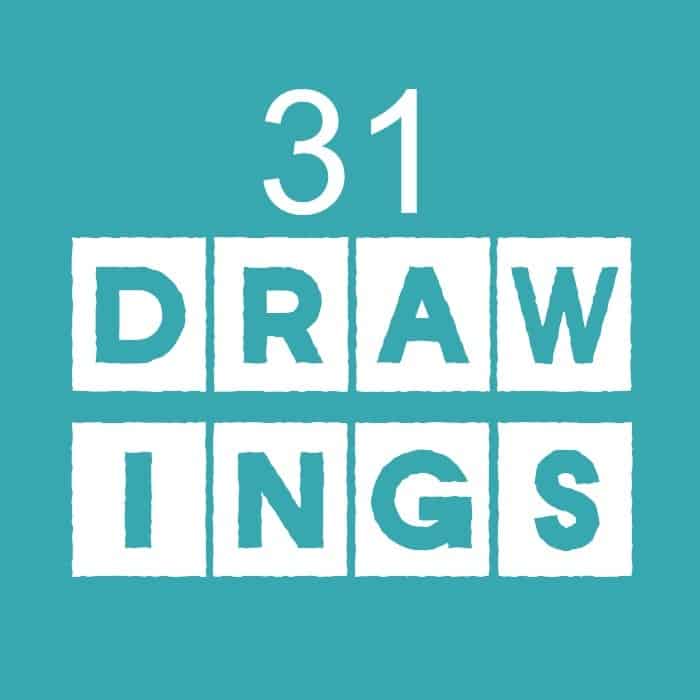 Hi. I'm Jeanette, and I'm crazy. Typically when I decide to join blogging things where you commit to doing something every day for a set period of time, I fail miserably. Probably most people do, right? Just say yes.
So this opportunity/challenge rolls across my radar at some point last month and I'm all, "Hot damn. I'm in! I'm going to rouse myself from bed every morning in the wee hours and write something every day and post it and revel in the glory of being a superhuman."
And then the more I thought about that, the more terrified of commitment I became. So I put my heads together in an attempt to figure out something- anything I could do each day for 31 days in a row because now I was really craving that superhuman status.
And that's when one of my several brain cells stepped up and gave me the idea to do 31 drawings. Quick, easy drawings where I explore a new type of art technique each day for the month.
ARE YOU EXCITED YET?!
I brainstormed some art techniques. Some I've done before and some I have not. Some will royally suck and some will end up looking super-fantastically-cool. I'm assuming at least one of them will be a scribble in my lame-ass attempt to keep up with doing one a day.
Here's #1. I attempted rubber cement resist with watercolor over it, but I didn't use enough rubber cement, so the watercolor seeped through most of it. I used a leaf cookie cutter and painted the rubber cement inside of it, and let it dry before watercoloring. After everything is dry, you rub the rubber cement off with your fingers and are supposed to be left with white paper.
After that all didn't work out so well, I went back in with a few more layers of watercolor, added lots of rulered lines with Sharpie (clearly a result of me doing so much Zentangle lately), and then went back in with a yet a little more watercolor. Boom. Pow. A slightly underwhelming start to the month, but I had fun during the process. Let's hear it for the process!
See you tomorrow…