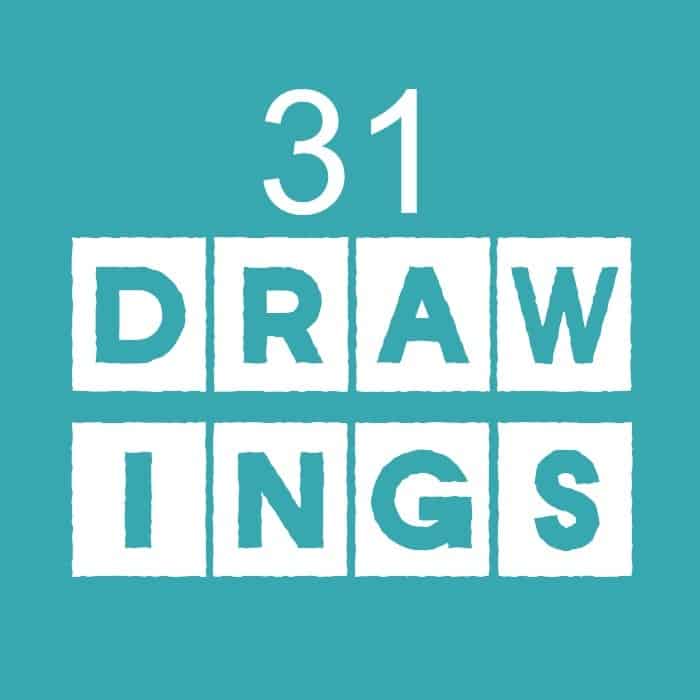 In 2014, I challenged myself to make 31 small drawings, one day, for the month of October. I trashed the worst of them, and compiled the rest together here for your viewing (and laughing) pleasure.
---
Hi. I'm Jeanette, and I'm crazy. Typically when I decide to join blogging things where you commit to doing something every day for a set period of time, I fail miserably. Probably most people do, right? Just say yes.
So this opportunity/challenge rolls across my radar at some point last month and I'm all, "Hot damn. I'm in! I'm going to rouse myself from bed every morning in the wee hours and write something every day and post it and revel in the glory of being a superhuman."
And then the more I thought about that, the more terrified of commitment I became. So I put my heads together in an attempt to figure out something- anything I could do each day for 31 days in a row because now I was really craving that superhuman status.
And that's when one of my several brain cells stepped up and gave me the idea to do 31 drawings. Quick, easy drawings where I explore a new type of art technique each day for the month.
ARE YOU EXCITED YET?!
I brainstormed some art techniques. Some I've done before and some I have not. Some will royally suck and some will end up looking super-fantastically-cool. I'm assuming at least one of them will be a mere scribble in my attempt to keep up with doing one a day.
Drawing 1
I attempted rubber cement resist with watercolor over it, but I didn't use enough rubber cement, so the watercolor seeped through most of it. I used a leaf cookie cutter and painted the rubber cement inside of it, and let it dry before watercoloring. After everything is dry, you rub the rubber cement off with your fingers and are supposed to be left with white paper.
After that all didn't work out so well, I went back in with a few more layers of watercolor, added lots of rulered lines with Sharpie (clearly a result of me doing so much Zentangle lately), and then went back in with a yet a little more watercolor. Boom. Pow. A slightly underwhelming start to the month, but I had fun during the process. Let's hear it for the process!
Drawing 2
Hola! Here is my drawing for today. It's funny, I have so many ideas and I want to do them all RIGHT NOW, because I'm an impatient sort. So I'm having to talk myself down with these drawings and force myself to slow down.
This one is made by rolling out metallic craft paint, stamping cup rims into the paint and stamping the paper. I then went in with little craft foam cylinders and a pencil eraser to stamp some more dots.
Materials used:
Drawing 3
Who wants to see my third drawing?? This is proving to be a fun series. I started this one yesterday, by soaking the paper (printmaking paper) in red liquid watercolor.
Today, after it had dried I whipped out the jug of bleach and drew it on using a Q-tip. It is cool coolness to see the color disappear slowly from the painted paper.
You can do this technique with fabric, too, but try it on a small, hidden area of the fabric first, because bleach doesn't always bleach fabric out completely white. Fen and I tried bleach-drawing some black tennis shoes, and the bleach areas turned orange. ACK.
Drawing 4
For my day 4 drawing, I revisited rubber cement, and not just because it smells crazy. I wanted to see if I really globbed it on, if it would work as an effective resist for watercolor.
I used a Mod Podge Rocks stencil
on my paper and quite liberally brushed rubber cement on it. Rubber cement dries quickly, so I could move the stencil over and do the other side after about a half hour. As you can see, I didn't get it lined up perfectly…
I went for a totally fancy ombre effect with my watercolor, and then when it was dry I rubbed off the rubber cement with my fingers.
Materials:
Rubber Cement
Watercolor Paper
Watercolor Paint
I use these foam brushes a lot with watercolor
Drawing 6
I did something totally fun today. I spiraled some clear glue around in a bullseye, dripped some acrylic craft paint on and dragged through the mess with the end of a small paintbrush. The end.
Drawing 7
Today was one of those days where I wanted to completely ignore this challenge and focus on the other trillion things I had to do. BUT! Dishes be damned, cleaning be damned, etc etc etc. I drew. It's a fast one; not the one I was intending to draw today. Tomorrow I'm planning on working on a few techniques I've been eager to play with.
So, for today we've got pencil and rubbing alcohol. I remember learning about this in high school. You basically draw and then sort of paint the alcohol on using a q-tip. It smears and liquefies the graphite around a bit and blurs lines somewhat.
I felt the need to add a small jolt of color, so I painted one rectangle with a bit of watercolor. It's hard to see, but I also dripped some alcohol on top of the watercolor. Sometimes it looks better than other times, and I think it's more dramatic when you have more paint to drip the alcohol into.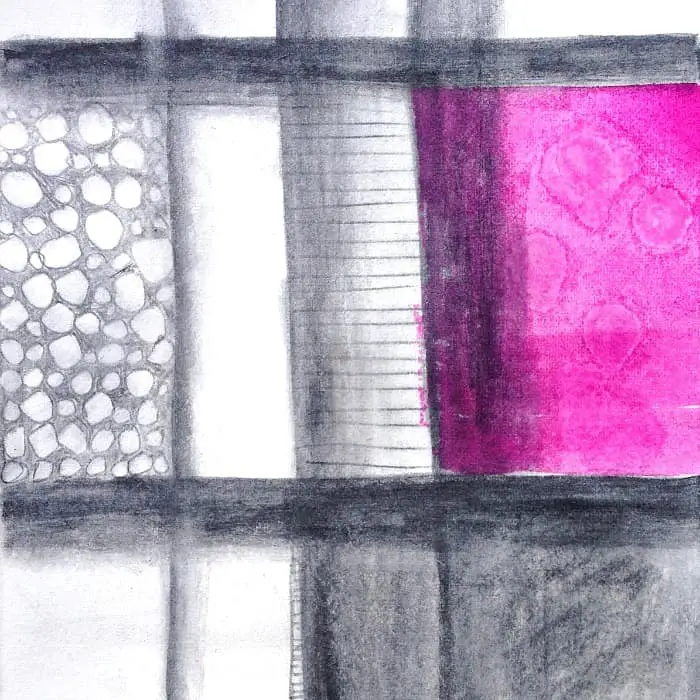 Drawing 8
How do you feel about embroidery on paper? I feel happy I finished it; while I love the way it looks, the feel of the thread pulling through the paper made me feel a little woozy at first. Although I persevered and got used to it and finished the skull embroidery, and I think it's rad.
I printed out this skull clip art, and transferred it onto my printmaking paper with the pencil transfer technique.
Then I poked holes evenly, all around the skull and embroidered it with a running stitch.
Materials:
Drawing 9
This spiderweb glue experiment, similar to drawing #6. See the full technique over here.
Drawing 11
I like today's drawing. And I love drawing with marker; I think I'll do more of these this month. I've had a big set of Prismacolor
markers for a while (like, years, and they haven't dried out!)
Drawing 14
I love this drawing. It was so fun to make- the letters are messy because I obviously do not know how to use a stencil, but I stenciled letters all over the cotton pickin' place, and then used watercolor crayons on a few of them.
Have you used watercolor crayons? It's nice to have the control of a dry material, but then make them look like watercolor with a swipe of a wet paint brush.
Drawing 15
DOG DRAWING FOR THIS DAY. DOGS RULE.
Drawing 16
I'm over the hump! Officially more than halfway through my 31 day drawing challenge, and you know what? It feels a little like this has become a part of my every day routine. I know they say it takes about 2 weeks to form a habit- while this doesn't exactly feel like a habit, it does feel a lot more natural.
How weird that making art used to be such a part of my every day existence, and then it just dribbled away and my energy went into child-rearin'. And then into blogging. And now it's blogging and making art again. Who knows, maybe I'll keep up this making of art.
I recently listened to a podcast where Srinivas Rao interviewed husband and wife doctors Alton and Carrie Barron about The Creativity Cure, their book outlining their 5 (plus 2) steps to improve your life (including exercise, introspection, and using your 2 hands in any creative endeavor).
Obviously these are all things we've heard before, or maybe innately know, but it's always helpful to hear them reiterated from different really smart people who are passionate about the topic. I'm devouring their book right now.
Oh, am I babbling on about creativity again? Let's you just read about my drawing for today: IT'S ENCAUSTIC. I love encaustic. Encaustic is painting with hot wax, and how could anything be cooler than that?
Materials: encaustic medium, black encaustic wax, very old encyclopedia page, white oil pastel.
Drawing 17
Today's drawing is another encaustic. I soaked the paper in the waxy goodness, let it dry and cool, then drew on it with oil marker.
Drawing 19
Back with some more liquid watercolor! This was a piece of paper I had kept from a long ago kid watercolor project because I liked the purple and yellow together, and figured I might use it in a future project.
So I drew a bunch of obsessive little circles all over it and called it a day.
Drawing 20
Hello, Mr. Rooster. I love using old book pages as a first layer for drawings, because they instantly fill up the space and sort of "dirty up" the blankness of the white paper so it's not so empty and intimidating.
Try it out! It's a great way to get kids drawing, too. We all know that kids like to draw all over books.
I glued down pieces of old encyclopedia, foam-brushed some paint over the top and went back in with chalk pastel when it was dry.
Drawing 23
Look how yarny-crafty I got with this drawing! I sort of hate it. It reminds me of the 70's. But it was still fun to do- you just draw on the paper with a bottle of glue and lay the yarn down as you go.
Drawing 25
Somewhere in between a monster and a wrench.
Drawing 30
Ink is so fun to draw with, straight from the bottle.
Drawing 31
My last drawing of the month is ink and white out. Whoopsa!