I go through book phases. Sometimes I'm all about them, sometimes I burn them in a pile in the back yard. Especially the ones that talk about topics I don't agree with. Good old book-burnings are what I'm all about.
Actually, my relationship with books has changed somewhat, as I read word-based books on my iPhone, while image-based books I prefer in real life. I'll tell ya about the books I have going right now. Actually just 3 of them, because I'm also reading The Secret Life of Bees, but that just does not fit my little theme here of creative books.
BOOK NUMBER ONE:
I had to have this the moment I laid eyes on it in Target. Okay, first I bought it for my sister for her birthday, and then I ordered myself a copy on Amazon (It's cheaper on Amazon, duh.) It's been sitting on my new work table for a week, and I haven't written anything from it yet, but I keep flipping through, feeling inspired. Maybe this is what it will always be- simply a way to inspire creative thoughts. Hopefully one day soon I'll get around to actually using it.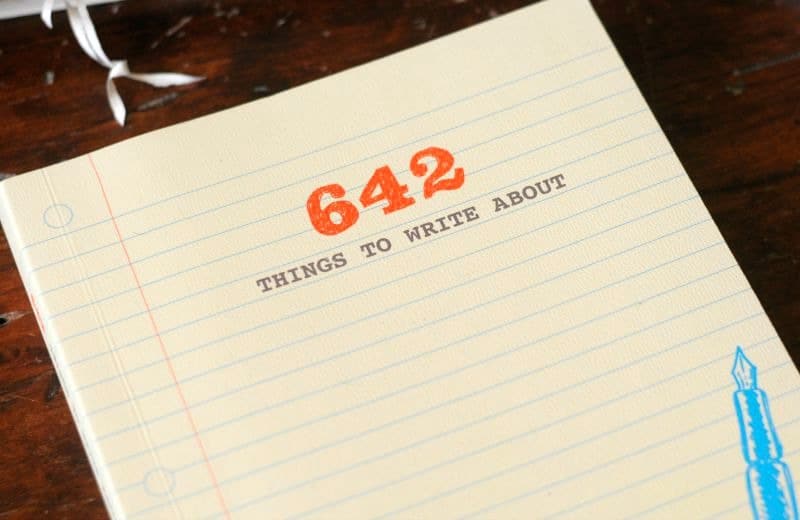 I love how it's set up as a diary, so you can start writing in it immediately, and if you are so moved, you can continue the writing in a fabulous little journal. Like this one:
Are you a journal/notebook freak? I've bought 4 packs of these to have around so if Target discontinues them I'll still have stockpile.
Here are what the pages look like, as propped open by my gnarly toes. The prompts are things like, "Rewrite a piece of your own writing in one-syllable words." and, "Write a bucket list for your favorite superhero." Have you grabbed your pen yet? I know you want to get writing.
BOOK NUMBER TWO:
Now just you shut your pie hole about the fact that this is calling itself a magazine. It's a book, and don't let anyone tell you differently. In fact, it was in the magazine section at Barnes & Noble, but, dammit, it's a book.
It's sort of set up like a journal as well, and this issue is all about mindfulness, something I'm trying to remember to practice. But it's so hard and I get caught up in my head obsessing over stupid shit instead of being present and then next thing I know 6 weeks have passed and who knows what even happened during that time, but good thing I'm still obsessing over whether my blog logo should have pink in it or not.
Um.
So this bookazine is full of soooo many surprises like little cards in a glassine envelope to write things down, a patterned fold-out page for a collage, so much luscious illustration, and interviews and articles all about mindfulness. It's set up so creatively, you'll probably just explode.
THIRD BOOK, I.E. BOOK NUMBER THREE:
This book has me all in a creative tizzy. I've been listening to Todd Henry's podcast for a while, (The Accidental Creative) and I find him brilliant and inspiring. You know how there are a few people out there you follow and always get crazy amounts of insight from?
I pre-ordered Louder Than Words, because I knew it would be life-changing, and it so is.
It's for anyone who is looking to find and use their unique voice in their creative work, whatever that may be. Does that sound vague? Or weird? Sometimes it's hard to find the bravery to put the real you out there in your work for the world to see (and judge), and many of us hide behind what we feel will be accepted by the most people.
I'm totally guilty of this, and I'm working to essentially be more "me" in my blog, without worrying about whether or not I turn some people off, so my voice isn't watered down.
Oh god, that sounds just so narcissistic. At least go read some of the reviews and listen to the little excerpt from the Audible version of the book.
So there you have it – the 3 books I'm bouncing around my head lately. It's impossible to read just one book at a time. Got anything to add to my list?
Come hang with me on Facebook and we can chat all about books, food, art, and whatever else strikes your fancy.