I originally posted this group of creative gifts for creative children last year, and I switched some stuff out for new cool items for this year. I LOVE kid stuff, in case you haven't noticed, and here are some gift ideas for a wide range of kids on your list this year:
Can you guess which Disney Pixar movies each of these posters represents? I'm partial to the Wall-E one, but that's just my insatiable love for robots. From Poster Explosion on Etsy.
The perfect kit for your teenager who wants to check out screen printing. This comes with everything you need, including a DVD. Maybe you can entice them to make a "#1 mom" t-shirt for you. Speedball screen printing kit.
Obviously every kid needs a set of blocks, and this amazing set of tree blocks
gives a nature vibe to the whole building process. Aren't these neato?
I've written about this book before, because I am such a fan. And this is the updated version. Woot! I think we as adults understand the intent behind it, and our cynicism keeps us from unleashing on it. Kids, however, given the opportunity to completely go postal on a brand new book, will do so with gleeful abandon. How can you not have fun with a book that tells you to poke it with a pencil and jump up and down on it? Wreck This Journal.
People rave about the quality of Copic pens, so if you have a teenager into manga or comic art, I would try these.
This gorgeous little rattle is sure to impart creative powers onto any baby who drools on it. From Keepsake Toys on Etsy.
I'm pretty sure any kid would be thrilled to receive this as a gift. Paints, colored pencils, oil pastels, drawing pencils, and extras make up a box of magic to inspire creativity.
80 piece art set.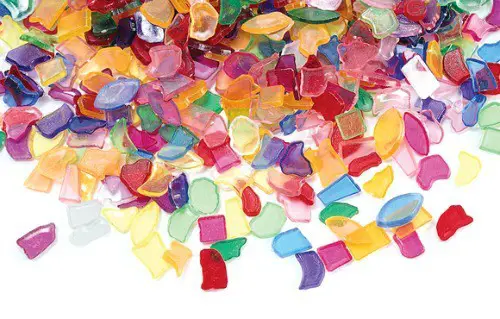 Oh. My. Have you ever seen anything as fun as a pile of mosaic pieces?
These come in 1 lb. or 2 lb. sets and are simply perfect for color activities, counting practice, mosaic-making, etc. Open-ended creativity.
The sooner you embrace the fact that your kid needs an easel, the better. Clear out some space somewhere and set this puppy up. We had this one when Fen was little, and it was one of her most favorite things ever. By Melissa and Doug.
These books are always fun. Kids will enjoy doing these for much longer than they let on, so feel free to buy it for your 18 year old. Okay, maybe it's better suited for the 6-10 set, but don't tell me you don't want to make one of those caterpillars on the cover. Funprint Drawing Book.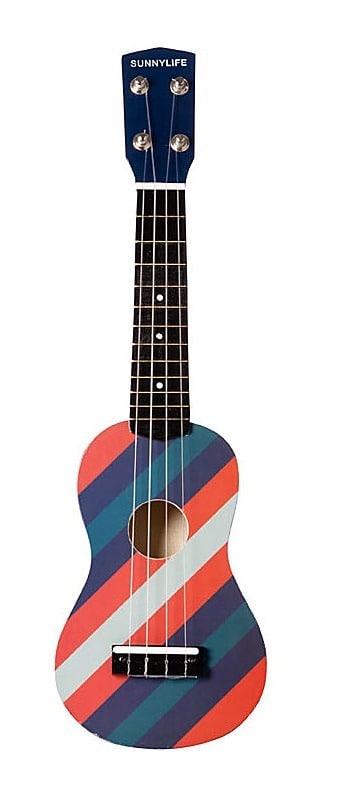 I felt compelled to add in this striped ukulele
Creativity abounds when children behold this baby.