Affiliate links may be included in this post. Thank you for supporting Craftwhack!
Many of you will have noticed that the holiday known as Christmas is coming soon. A special December tradition in my house growing up was to open a tiny cardboard door each morning and ingest a piece of waxy hydrogenated "chocolate". Those were the days. And I have recreated that Holiday tradition in my home. This is lame. I always envision Christmas around here all handmade and beautiful and thoughtful, and I end up rushing through it like a rabid ostrich. (I'm bad with similes.)
So to make me feel even more like shit, I have compiled a grouping of gorgeous handmade Advent Calendars from all sorts of places. (Click on a pic to find out more.)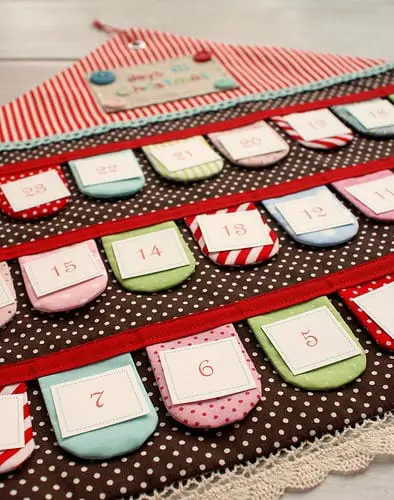 This is made by Amy from NanaCompany, and if you visit her blog you will immediately die from seeing the cutest garland. Go look. I'll wait until you get back. fa la la la la
Dylans Candy Bar Advent Calendar. This satisfies my need to have candy behind every door, plus it's a damn house! See that?!
This is actually a download you can buy from an etsian- juliemarie– to make your own advent calendar garland. That would be pretty fun to shop for all of the little weird things to put inside the pyramids. Like a single raisin for each day.
Another Etsy shop- sewsweetviolet– and she hand makes these when you order, and I would fill each pocket with things like ketchup packets and cigarettes.
SevernHomemade from etsy- these look black, which is super awesome modern Christmas, but they're actually navy blue which is even MORE modern Christmas. Mind blowing.
Sweet little paper envelopes clipped to the ever-popular red and white bakers twine. These would be easy enough to pull off on your own if you were so inclined.
It's not too late to make or buy and advent calendar today for the rest of your month. Or just go buy a cheapie crappy half-price one tomorrow, and you can shove 10 days worth of chocolate into your face in one sitting.